Toshiaki Ogasawara, Founder
His Story
Toshiaki Ogasawara was born in Tokyo, Japan. His father was an architect who received the Seiichi Tejima Research Award, and his mother's family included politicians and entrepreneurs. Mr. Ogasawara grew up in Aoyama, Tokyo.
From his youth, he had been interested in English, and this led to a job in 1948, some two years following the end of WWII, at Steel Brothers, a British national enterprise. Impressed with his performance and seeing his potential, the president of Steel Brothers encouraged Mr. Ogasawara to apply for a scholarship to study at the University of London, where he majored in trade and finance. After returning to Japan, Mr. Ogasawara established Nichiei Bussan Co., Ltd., the Japanese agent for the Steel Brothers and served as President. From the start, Mr. Ogasawara's knowledge, skill and instinct as an entrepreneur resulted in the Company receiving an unheard-of amount of orders as a newly established business, acquiring the exclusive right of export for Basic Slag (steel slag fertilizer) produced by Nippon Kokan and handling the import of Greek leaf tobacco and oil (copra oil made from coconuts) for Japan Tobacco & Salt Public Corporation, a former Japanese national enterprise.
Targeting Velcro fasteners made in Switzerland ahead of others, Mr. Ogasawara went to Switzerland in 1960 to negotiate a deal, and established a joint corporation for manufacture and sales.
Mr. Ogasawara named the product "Magic Tape," a clever name that made it easy for everyone to quickly understand its function. It became an instant hit, and the company steadily expanded the business.
Having succeeded in building a very successful business, Mr. Ogasawara decided to sell the company and return to school to realize another dream, that of becoming a politician. With the advice of one of his acquaintances, Noboru Takeshita, who would later become Prime Minister of Japan, Mr. Ogasawara went to the United States, where he enrolled as a student at Princeton University. His decision to study at Princeton would be an important turning point in his life.
While at Princeton, Mr. Ogasawara's natural charm and engaging personality saw his personal network of friends and acquaintances expand quickly. Among his new acquaintances was Silas Cathcart, Manager of the Illinois Tool Works Inc. (ITW in Illinois, U.S.), who was attending graduate school at Princeton. Silas would later have a significant influence on Mr. Ogasawara's business. As it turned out, many of ITW's executive managers had graduated from Princeton, and this would also help Mr. Ogasawara to start a new business later.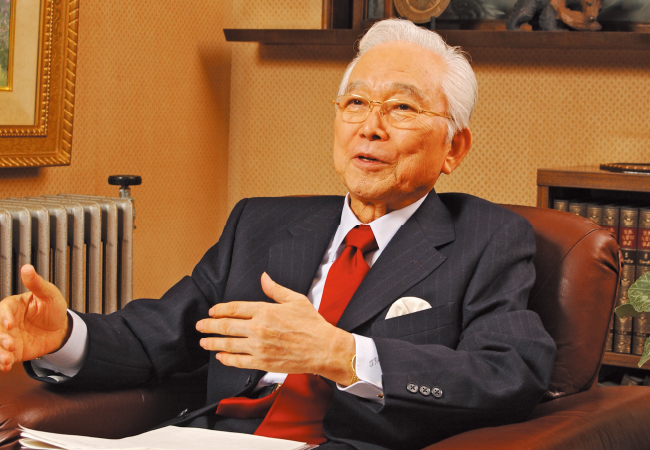 In addition to metallic fasteners, a major pillar of its business, ITW also produced light and easy-to-use plastic fasteners. When Mr. Ogasawara discussed the manufacture and sales of these in Japan with them, he knew in his heart that it would be a profitable undertaking. After returning to Japan, Mr. Ogasawara established Nippon Industry Fastener Inc. (currently Nifco Inc.), a joint corporation, with ITW. When he established the company, plastic fasteners were not yet being used in the auto industry or in the manufacture of home appliances such as TV and audio equipment. Mr. Ogasawara visited the design and purchase departments at major Japanese manufacturers to explain the advantages of plastic fasteners. As a result of his marketing instinct and can-do spirit, his efforts gradually paid off as the number of customers began to increase.
For a few years after the company was established, his main customers for the plastic fasteners were home appliance manufacturers. Mr. Ogasawara visited automobile manufacturers time and time again to explain how the plastic fasteners improved work efficiency and reduced total manufacturing costs, and his effort paid off as the number of partner companies steadily increased. Mr. Ogasawara also consistently prioritized a bottom-up approach in which he worked with employees at factories to come up with new ideas. His persistence led to the Nippon Industry Fastener Inc. being listed on the Second Section of the Tokyo Stock Exchange in 1979, only 12 years after the company had been established. In 1984, the company was listed on the First Section of the TSE as well.
In 1983, the Company established production bases in Taiwan, expanded to South Korea, the United States, and Hong Kong, and accelerated globalization.
Currently, the Company has grown globally with 43 production bases in 16 countries in Europe, North America, and Asia. From its beginning as a manufacturer of plastic fasteners, the Company has successfully expanded business to include a wide range of products such as interior components, fuel system and powertrain components for automobiles, office automation (OA) equipment, and housing system components manufactured by Nifco Inc.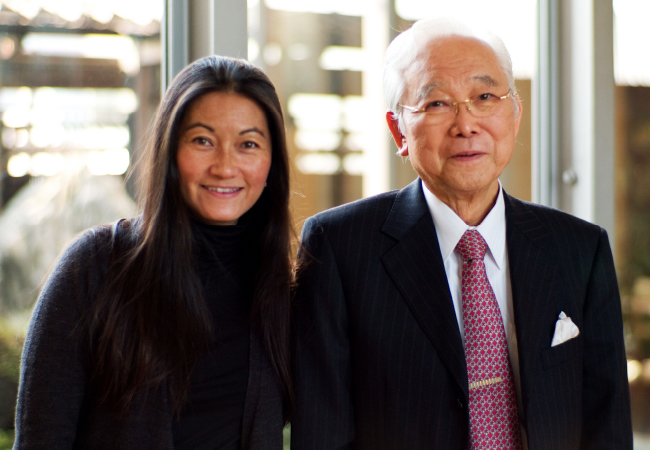 Hoping to further expand his business experience beyond plastics, Mr. Ogasawara decided to accept an offer to serve as President of Japan Times Ltd., the pioneer in English newspapers in Japan, in 1983. Using his English skills and broad human network, Mr. Ogasawara also increased his experience by serving in top organizations in wide ranging fields both at home and abroad in roles that included Secretary of Nippon Keidanren and Keizai Doyukai, Director and Vice-President of the America Japan Society, Advisor to Nike, Bank of America, Prudential, and General Electric, Director of the Japan Opera Foundation, Councilor of the Tokyo Philharmonic Orchestra, Chairman of the United World College (UWC) Japan National Committee, President of the English Language Education Council, Inc (ELEC).
In September 1986, Mr. Ogasawara founded the Ogasawara Foundation for the Promotion of Science and Engineering to realize his dream of supporting science and technology in Japan.